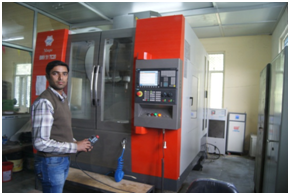 To fulfil the stringent mechanical requirements in astronomical and atmospheric science and instrumentation, a fairly well equipped mechanical section has been established at ARIES. Mechanical section is actively involved in design, development and maintenance activities of observational facilities of astronomy and atmospheric sciences including installing various optical telescopes, spectrograph instruments and aluminizing units.
The Mechanical workshop has skilled and dynamic work force, which has a decade of experience in understand optical instrumentation and precision engineering works and troubleshooting critical problems arise in scientific instruments and observation facility.
During last more than a decade, the mechanical workshop has i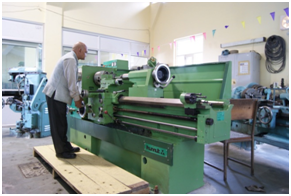 mproved by adding new automated machines like Computer Numerical Control (CNC), many new conventional machines and latest software's for optimizing the design and precision machining works.
Some of the capabilities of the mechanical workshop are highlighted below-
 3D Modelling using Pro-E and Unigraphics, Drafting using Auto Cad and Structural analysis using Ansys software's.
 Machining capability with less than 10micron precision in CNC and less than 30 micron machining in conventional machines.
 Aluminium welding.
 Installation and maintenance of astronomical observational instruments.
 Portable CMM inspection.
CAM programming.
 Conducting trainings and guidance to the final year's students pursuing projects in mechanical section.
Some of the major contributions of the mechanical workshop are highlighted below. 
  1.  LIDAR Project
Design, fabrication and installation of roll-off hatch cover 
 2. 1.3m Telescope
The roll of roof enclosure is indigenously developed and erected. 
Developed an automated filter changing unit.
 3. 3.6m Telescope projects:
The Enclosure Inspection/endorsement of design, manufacturing, fabrication and erection works were done by  mechanical workshop.
Dome automation encoder attachment and 
Design and development cable anti twister.
  4.  4.0m International Liquid Mirror Telescope (ILMT) Project:
The Enclosure Inspection/endorsement of design, manufacturing, fabrication and erection works were done by mechanical workshop.
The installation telescope and auxiliary equipments.
Mirror bowl lifting tools developed and tested.
  5. ARIES Devasthal Faint Object Spectrograph and Camera (ADFOSC) project:
The mechanical design, analysis and inspection aspects related to the ADFOSC instrument were done 
Mechanical design and development of Calibration unit is done indigenously.
Integration trolley for installing 2 metric ton instrument was designed and developed.
 6. 4Kx 4K CCD IMAGER instrument:
The design and manufacturing of filter wheel housing and precision filter drive mechanism was successfully developed and tested.
Integration tools for assembly and disassembly for instrument was developed.
    Machining Facilities.      
 Lathe-03
  Vertical Machining Centre (VMC)-01
 Milling-01
 Radial drilling-02
 Surface grinder-01
 Single phase & three phase welding machine- 01
 Gas welding equipment -01
  welding equipment-01