Travel Instructions
(A)  How to reach Bhimtal
The nearest airport to Bhimtal is Pantnagar (code: PGH) located about 65 km from the city and the workshop venue at Bhimtal. However, this airport operates only small carrier flights with limited domestic connectivity. In case you are arriving at Pantnagar airport the only option is to hire a taxi to reach Bhimtal. The taxi would cost approximately INR 2000 and take about a couple of hours to reach Bhimtal. The nearest international airport is the Indira Gandhi International (IGI) Airport (code: DEL) located in New Delhi, about 300 km from Bhimtal. A viable option for most visitors to reach Bhimtal is to fly to IGI and travel by road/rail to Bhimtal. Following are details on different modes of transport that may be used to travel from Delhi to Nainital/Bhimtal.
Pantnagar Airport to Bhimtal: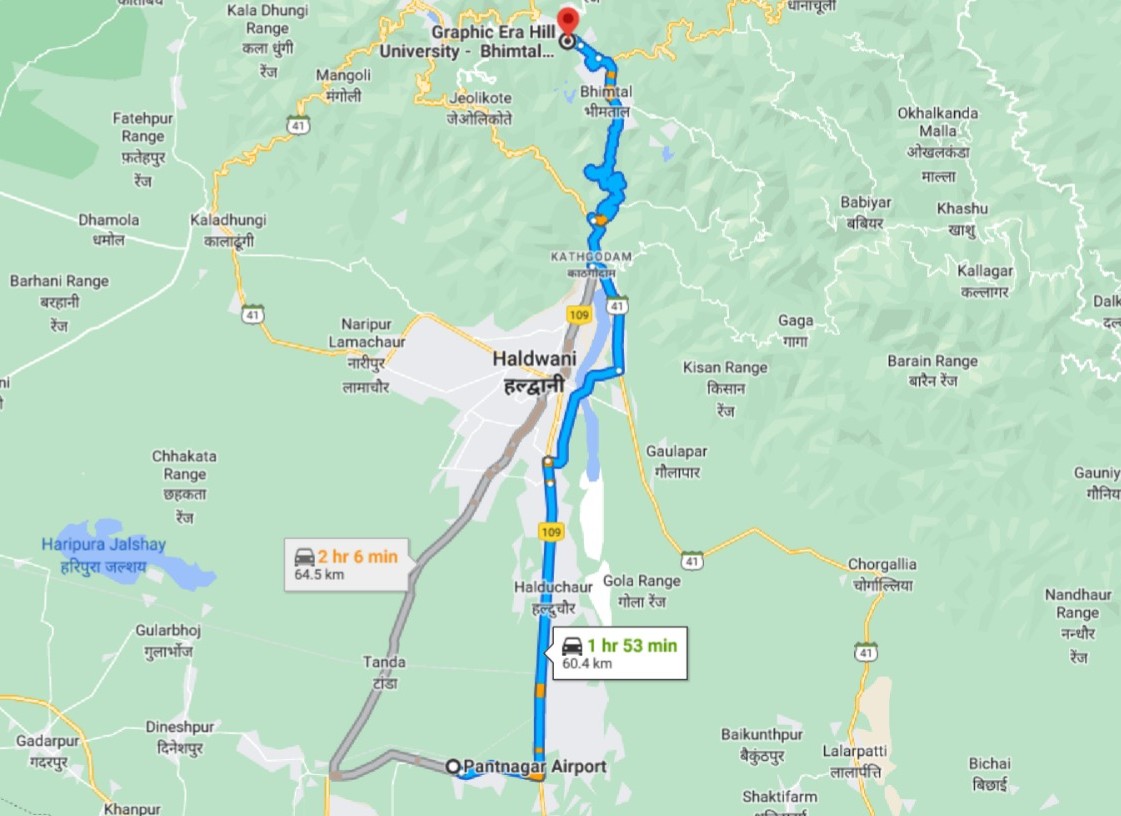 This map shows the route map from the Pantnagar Airport to Bhimtal.
1. Taxi
One can hire a taxi from app-based services like Ola/Uber from IGI. It will cost approx. INR 8000 and takes approximately 6 to 7 hours to reach Bhimtal. You need to pay the taxes and tolls along the way, apart from what the app shows. A private taxi can be prearranged to pick you up from the airport if you book in advance (at least a day before your arrival). For such a request, you may contact any one of the following known travel agents to book the transport at discounted rates. Be careful with fraudulent websites/agents if you are looking for other taxi services on your own.
Travel 4 fun (Mr. Vinay Bisht) : +919412086566, +919759237465
Nayna Travels (Mr. Praveen Bisht) : +919412084052
HINA Travels (Haroon Khan) : +919719276807
2. Bus (Delhi to Haldwani/Kathgodam)
A cheaper option is to take a bus from Delhi to Haldwani/Kathgodam (the nearest town in the plains) and then take a taxi from thereon to reach tal. Buses to Haldwani start from two locations in Delhi, the Inter-State Bus Terminal (ISBT) at Anand Vihar and Kashmiri Gate. There are air-conditioned buses to these bus stations. If you are exiting from Terminal 3, you can find these bus shuttles at the extreme of your left. The Delhi Airport Metro Express also operates the metro from IGI in every 10 min from IGI Airport to New Delhi Railway station. The ticket costs approx. INR 100 and can be bought inside the bus and for metro from the counter at the entrance. Alternatively, you can take Uber/Ola or a pre-paid taxi just after exiting from airport terminals. At the Anand Vihar ISBT or Kashmiri Gate, we recommend avoiding contacting any unknown travel agent or getting into any private bus. The government-run buses start from the inner part of the terminal. Proceed towards the Uttarakhand Transport bays and catch a Uttarakhand Transport Volvo buses leaving to Haldwani/Kathgodam at 9:30, 10:30, 21:00, and 22:00 hrs. The Volvo bus ticket costs approx. INR 800. You may come across other less-luxurious buses but perhaps they are not very convenient to everyone. Advance booking is advisable and can be done online through the link given below. It takes about 6 to 7 hr to reach Haldwani. From the Haldwani bus stand one can hire a taxi to Bhimtal (do mention Graphic Era Hill University campus to the driver) that costs about INR 1000 full fare or INR 200 per seat on a shared basis. 
You may use       to book the buses.
3. Train
The closest train station to Bhimtal is Kathgodam the last stop in plains. Trains to Kathgodam depart from either the New Delhi (code: NDLS) or the Old Delhi (code: DLI) railway stations. From the IGI airport, there is a direct metro to NDLS, and from there you need to take the yellow line and get down at Chandni Chowk station to reach DLI. It takes about an hour to reach either of these stations. There are three trains that run between Delhi and Kathgodam, (1) Ranikhet Express from Old Delhi railway station (22:05 hrs), UTR Sampark Kranti from Old Delhi railway station (16:00 hrs) and KGM Shatabdi from New  Delhi railway station (06:20 hrs). These trains take between 6 to 7 hours to reach Kathgodam. The train fares ranges from a few hundred rupees to over a thousand depending on the level of luxury selected. You need to book the tickets well in advance by registering at the IRCTC for which the weblink is given below. Outside the Kathgodam station, you can hire a taxi to Bhimtal either individually (approx. cost of INR 800) or on a shared basis (approx. cost of INR 200 per seat).
You may use       to book the train tickets.
Kathgodam Railway station to Bhimtal: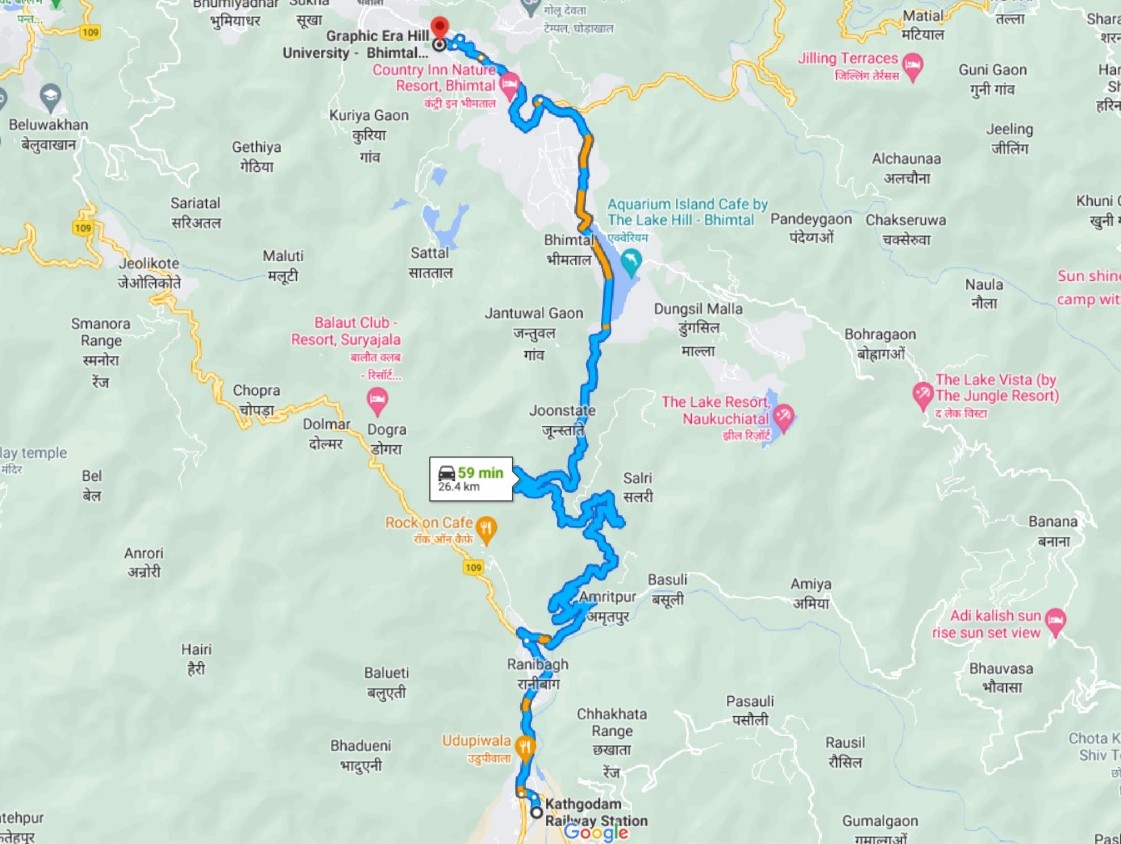 This map shows the route map from the Kathgodam (KGM) railway station to Bhimtal.
The Workshop Venue: Graphic Era Hill University, Bhimtal
The GEHU - Bhimtal Campus is located at the Kumaon foothills of the outer Himalayas amidst lush green tree cover, along the Sattal Road. It has been designed as a self-contained community with academic and research facilities, laboratories, libraries, and administrative offices all on the same campus. The campus provides various facilities like student accommodation, Open Air Theatre, a cafeteria, play fields, library and computer centers, and fully equipped and well-designed lecture theatres. Bhimtal is well connected to all major cities of India, by road and rail, with the nearest railway station being Kathgodam which is 27 km from Bhimtal Campus. By road, Bhimtal is about 300 km from Delhi, 16 km from Nainital, and 310 km from Dehradun.